PRIVATE BJJ LESSONS NYC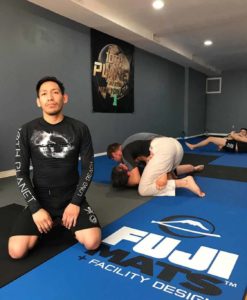 Are you looking to get into Brazilian Jiu Jitsu? Maybe group classes aren't your thing, or maybe you are just looking to rank up your jiu jitsu at a faster pace.
Not to worry, we offer private 1 on 1 training sessions for beginners to advanced students looking to either jump into training Jiu Jitsu or elevate their game to a higher level to gear up for a competition, or mma fight.
Our private Bjj lessons are specifically designed with each individual student in mind, making sure you get the most out of each session. Working directly with an instructor allows you to focus in on what is important to you in jiu jitsu.
From basic fundamentals, to strength and conditioning we will develop a program to best suit your goals.
Top 5 Reasons Private Jiu Jitsu Lessons are a great option!
1.) Individual Attention – When working on your BJJ in NYC there is no better way to get the knowledge and guidance that you are looking for than working directly with an experienced instructor with no added distractions. Additionally, you'll get a comprehensive plan to work with off the mats as well to further take your progress to new levels.
2.) Immediate Help – Many Jiu Jitsu students have holes in their game, or maybe they have poor habits that need to be corrected. Working directly with a coach will identify those problems and give you instant feedback on what adjustments to make.
3.) Flexible Scheduling – With the working world as hectic as it is, the average 9-5 is not as common as it once was. Setting up private lessons allow you to set a time that works for you, and to gain what you are looking for from a private jiu jitsu lesson.
4.) Rolling with your Coach – Rolling or sparring is by far the most fun aspect of jiu jitsu, this is also where you find out what works for you and what you need work on. Live rolling with your instructor will quickly allow you to evaluate the techniques you have been working on and where you can improve for future sessions.
5.) Having fun – Lets face it, no matter if your goal is to advance your jiu jitsu skills or you simple just want to get in shape, at the end of the day we want and expect everyone to have a great time doing it.
If you are interested in learning more about our private bjj lessons, please Contact Us and one of our instructors will be more than happy to go over the current schedule openings.